Queens' Council 10-Part Master Class Series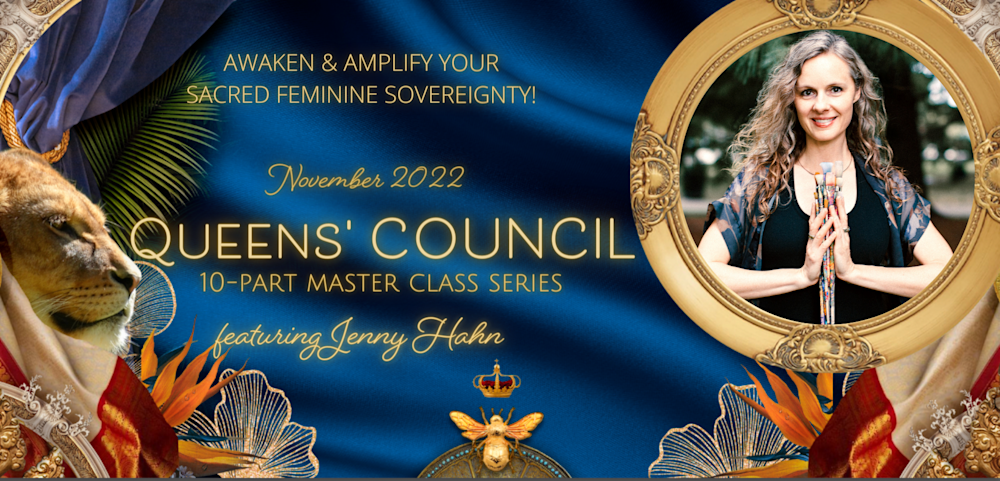 Join me and 14 other powerful teachers for a 4-week 10-part master class series ~
The Queens' Council: Awaken & Amplify Your Sacred Feminine Sovereignty
Nov 2-22, 2022
I'm so excited to share this with you! This is a jointly created online masterclass series featuring 15 of today's leading experts in sacred feminine sovereignty. Together we will help you to embody your Sacred Feminine Sovereignty through the Seven Queendoms as depicted in Dr. Rima Bonario's powerful book: The Seven Queendoms: A SoulMap for Embodying Sacred Feminine Sovereignty.
I'll be sharing some of my most treasured teachings using art-making for transformation during this course. This hand-on teaching will weave together with those offered by the incredible faculty assembled for this course.
You'll also hear from some of my dear Sister-Queens, Priestess-Teachers and Goddess-Colleagues, including: Dr. Rima Bonario, Elayne Kalila, Ava St. Clare, Katherine Robertson-Pilling, Kelly Isola, Tabby Biddle, Kathleen McGowan, Ani Williams, Myka McLaughlin, Cyndi Swall, Kathy Forets, Sequoia Stafford, Catherine la O', and Michelle Patrick.
More transmission than teaching, during your time with the Queens' Council Faculty, you will come away with practical tools to support you in:
- Choosing behaviors that nourish your body, mind, heart, and soul
- Unlocking the vibrancy, passion, and creativity that lives in your body
- Building the capacity to feel comfortable with your greatness
- Opening your heart to the pure delight of living and loving free from guilt
- Unleashing your voice, your truth, and your sacred purpose in the world
- Releasing yourself and your loved ones from the illusions that keep you small
- Becoming deliciously and securely connected to your Soul
The Sacred Feminine is calling you home.
Asking you to REMEMBER who you ARE.
She is whispering to you now, in this very moment,
Reminding you that you are a Queen
Here to Priestess yourself and others in this thing called Life.
So my dear Queen, are you in?
Claim your Seat on the Queens' Council