Paint from the Heart! A Process Painting Workshop

Wednesday, November 14, 2018 • 6 PM – 8:30 PM
At the Bauer Building: 115 W 18th St, Kansas City, MO 64108 (map)
$40, all materials included
You (yes YOU!) are a creative being worthy of expression. In this workshop you will be introduced to process painting and use it as a tool to meet whatever is showing up for you, reconnecting to your true self using art-making. Facilitator, artist and "creativity coach" Jenny Hahn will gently guide you to move through blocks and paint freely from your heart using the tools of tempera paint, paper, a brush, and mindfulness. Process painting, like meditation, is a tool to bring you home to the present moment. You will be supported in an environment free from judgment or critique. And painting is also fun :-)

Discover a connection to your true self and feel empowered to create! No art experience necessary. All materials provided. Pre-registration required. Space is limited, so register now to reserve your spot.
---

---
WHAT IS PROCESS PAINTING?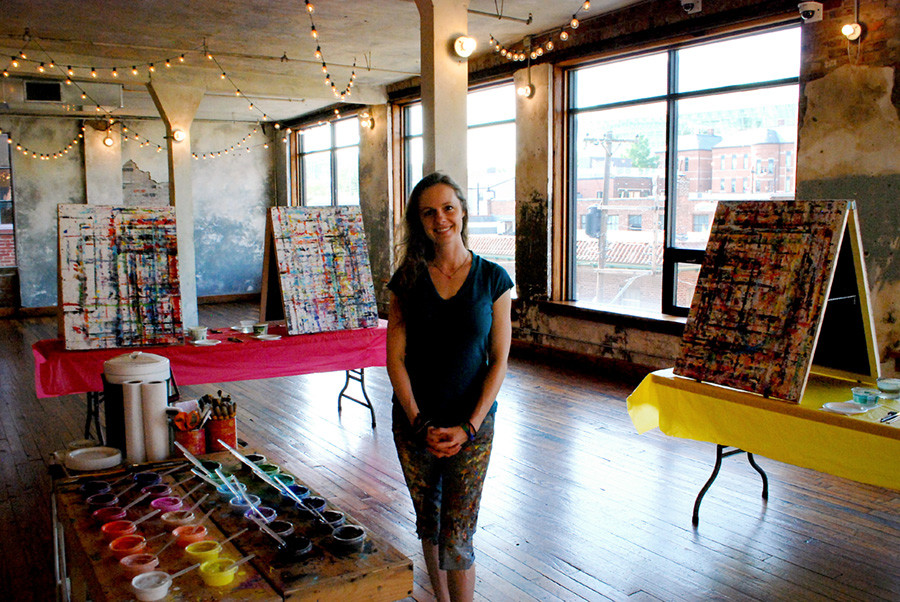 Process painting is a tool for mindfulness and self-discovery that is facilitated in a safe, non-judgmental environment. Free from comparison and critique, we embark on a boundless journey into the unknown, with the focus placed on the experience rather than the finished product. There are no mistakes, and no painting experience is necessary. We recognize that every person is a creative being with unlimited potential and that when we show up and tap into that creativity, our unique expressions emerge naturally. While this is not art therapy in the traditional sense, the process itself can be therapeutic. Participants speak of a deeper connection to themselves and a greater acceptance of their experiences. The process is healing on many levels. Being open to growth and facing one's fears leads to joy and a sense of accomplishment
Jenny turned to the process arts almost two decades ago as a modality for healing in her own life and now offers process painting as a tool for mindfulness and self-discovery. In 2011 Jenny co-founded Creative Nectar Studio with studio partner Stephanie Gray and now leads workshops across the country for churches, retreat centers, hospitals and special interest groups, helping individuals of all walk of life to access their own creative flow. Jenny's own healing journey—combined with 10+ years facilitation experience—gives her a wisdom and gentle guiding spirit that she brings to participants, encouraging each painter to move through blocks and paint freely from the heart using the tools of tempera paint, paper, a brush, and present-moment awareness.
Participants speak of a deeper connection to themselves and a greater acceptance of their experiences. When we are able to meet the creative impulses of our own being with openness, courage and curiosity, we learn to live in the creative flow.
WHY PAINT FOR PROCESS?
Discover more about oneself
Learn a tool for mindfulness
Awaken creative thinking
Develop self-acceptance
Feel the synergy of painting in community
Develop confidence by working through blocks
Awaken childlike spontaneity
Develop an inner stillness and focus
Feel supported without judgment
Create without analysis or critique
Come alive through play
WORKSHOP FORMAT:
Opening circle/introductions
Short centering practice
Extended painting time (with facilitation)
Closing discussion/optional sharing
PEEK INSIDE A WORKSHOP:
TESTIMONIALS
"Process painting with Jenny Hahn will open your heart and if you let it, challenge your mind. Jenny creates a safe, encouraging environment for the artist hidden or buried in each of us. As a Retreat Leader at Unity Village, I had the pleasure of watching a room full of people lose themselves in swirling colors, Jenny's gently probing questions, and the wonder of creation. One participant later described his experience to the group as "group therapy in technicolor" and related how easily his defenses had melted away in "the bubble of love" that Jenny and the group provided. I highly recommend Jenny's Process Painting Workshop for your church or center. Process Painting isn't about artistic talent as much as being open to Spirit and allowing what is within to emerge onto the paper before you. The results will surprise you."

—Mark Fuss, Director of Spiritual Services: Awaken Whole Life Center
"The Process Painting workshop was a great experience for my teens group. It was a liberating experience for some to learn about the process of meditation. They could freely express their feelings or simply paint and zone-out from the world around them. As their group sponsor I am sometimes at a loss on how to help them process what is going on and by going to this workshop it helped me to getting a better understanding on how to approach the hard topics. I definitely plan on setting up another workshop!"

—Carolyn Hummel, Wyandotte High School USD #500
"It was a delight to have artist Jenny Hahn with us at Unity of Lehigh Valley. We appreciate the ability to have a nationally known artist, based in spirituality, at an affordable cost to our ministry. Jenny inspired the participants to explore in new ways and brought everything needed to our event. The experience was both fun and a spiritual opening for participants. Lots of positive feedback that indicates we would love to have Jenny back in the future."

—Joy Wyler, Unity minister
"(The workshop was) a warm friendly place that allowed my creative soul to speak, dance and play. I get something out of the process every single time I go. Thank you Jenny for a very supportive experience."

—TM, Entrepreneur/Designer
"We were thrilled to host Jenny's process painting workshop here at Unity of Pasadena and to witness a visible transformation in those who participated. Jenny's gentle yet supportive guidance helped people let go of their fears and paint from the heart–including those who had never painted before and those who had abandoned their art years ago. The closing discussion was a time for sharing and integrating. I highly recommend Jenny's workshops for anyone looking to discover and/or reconnect with their creativity!"

—Karen Epps, Unity minister
"I always feel peaceful, yet energized after a few hours of process painting. It helps me turn off my nagging internal critic who insists everything I do has to be "right" or be "perfect." I can paint simply for the joy of letting myself create, because I don't have to worry that what I create has to be fabulous …"

—CT, Accountant/Photographer/Writer
"The Process Painting Workshop was a wonderful time of free and creative expression in a safe environment. It helped me to get more in touch with myself and listen more clearly to voice of Spirit within. I highly recommend Jenny Hahn in how she facilitates this process!"

—Tim Lytle, Unity minister
"Jenny Hahn recently facilitated a Process Painting workshop at Unity Temple through our U-Thrive InterSpiritual Ed & Enrichment Program). It was very well received by the participants! I appreciated not only her passion for her work but also her professionalism and flexibility as she listened to our needs and customized her program and marketing efforts to fit our particular church culture. I'm looking forward to booking Jenny for another workshop this fall season! "

—Nhien Vuong Dougherty, Unity minister

---
Ready to say YES to your creativity? Paint from the heart! Workshop space is limited, so register now to reserve your spot...

---